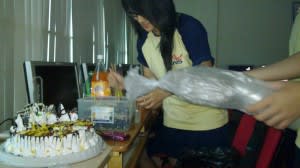 This was a very memorable day for me.  April, 2010, was a low point for me.  Everything that could go wrong did.  My students knew it as well.  When Joy and Long gave me a surprise birthday party, I was surprised.  They put a lot of effort into it.  No other student has ever done this for me.  They are still two of my favorite students. 
I miss those days teaching ICT at AIS.  The school was at its peak then, now it is struggling.  Still, I have fond memories at this school.
Below is the original post from April 19, 2010:
Last Friday was my 38th birthday.  I went to my IT class at the American International School and was surprised to find two of my students, Joy and Long, had prepared a surprise party for me.  Joy had made me some pasta with spaghetti sauce, sushi for the entire class and brought a huge cake.  Boy was I glad I skipped lunch that day.
Thanks Joy and Long!  This will be a memorable AIS moment for me to reflect upon in the future.