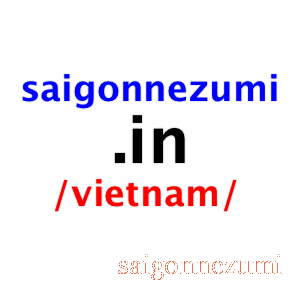 A couple week's ago, blogger and Twitter user, Ourman in Hanoi, mentioned that he just purchased a .in domain for his future website, ourman.in.  When I saw this domain, I immediately realized that the .in domains would be great for bloggers and travel websites for marketing and promoting their country specific blogs.
Currently, if anybody used a .in domain name which was not related to India , it would be used to create unique website addresses such as kev.in for kevin (I tried to register this but somebody beat me to it).  A great idea but why not saigonnezumi.in for my main blog web address?  Hence, if I blog in Vietnam, , I can set my web address to saigonnezumi.in/vietnam/ using .in as "in".  To be more Saigon specific, I can either set the blog web address to saigonnezumi.in/saigon/ or saigonnezumi.in/vietnam/saigon/.
Sounds basic but it makes for great keywords, makes your site more country specific, and they are easy to remember which means, great for marketing.  This would work great for travel and food sites as well.
An added benefit, the .in are not expensive to register, most domain registers already have them for a reasonable price.  So if you are a blogger, why not go ahead and register a .in for yourself.