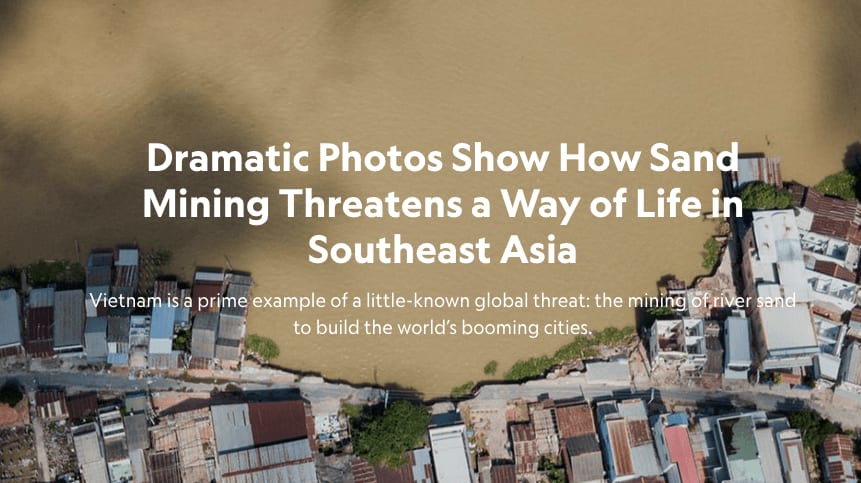 National Geographic is one of the many publications taking a look at the negatives affect of sand mining in Vietnam and the rest of Southeast Asia.
In Vietnam, sand mining poses an additional danger: It's contributing to the slow-motion disappearance of the Mekong Delta, home to 20 million people and source of half of all the country's food and much of the rice that feeds the rest of southeast Asia.

Source: https://www.nationalgeographic.com/news/2018/03/vietnam-mekong-illegal-sand-mining/
For long time expats, the side of the sand barrages have become a mainstay in Vietnam. Many, sadly, never knew the consequences of sand mining. News of houses collapsing never really focused on sand mining a cause. Instead, people naturally assumed it was natural erosion.
Lately, more people began to realize the dangers of sand mining, particularly to the people of Vietnam and Southeast Asia. Singapore is a beneficiary of the sand mining but seems to do little to halt this industry. National Geographic's article is a step in the right direction to information the global community.
Read article here –> https://www.nationalgeographic.com/news/2018/03/vietnam-mekong-illegal-sand-mining/
Sand mining in Southeast Asia videos
Below are some more videos that look at the side mining industry in Southeast Asia:
n Cambodia, sand mining is big business — but it comes at a price
World Is Running Out Of Sand — Why There's Now A Black Market For It