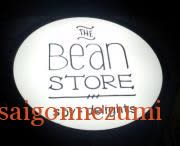 For those who are interested, there will be a Saigon Tweetup and Informal Saigon Bloggers meeting on Saturday, July 21st, at 11:30 am organized by HerDailyDigest and yours truly.  We will meet at The Bean Store @thebeanstore, run by @tamkaizen.
Meet up with some of your favorite Twitter users and Saigon bloggers. We hope to see you there.
Venue: The Bean Store
Address: 399 Vo Van Tan, District 3, HCMC
Time: Saturday (July 18) at 11:30 am.