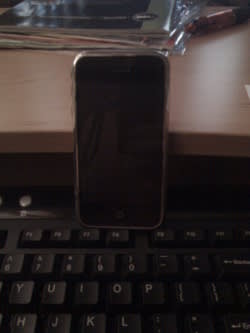 This is a post I wrote over 6 and a half years ago about a "missing" iPhone that I finally recovered.  Yes people, I did recover an iPhone that a "friend" was supposed to buy from me.  Yes people, umm, I did own an iPhone. 🙂  This makes a great story.  The person is question and I, obviously, no longer speak to each other which will make an interesting blog post in the future..
My Vietnamese friends said it could not be done. My Expat friends said it was long gone. My friend even bet me that I would not get the iPhone back by today. Even I considered it long gone so when I arrived in front of Cat Dang Cafe at 9:55 AM, I was surprised to see her mom there waiting for me with this: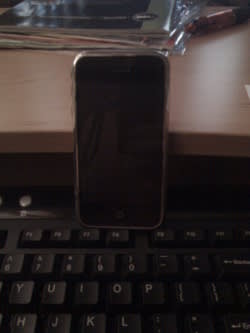 (7 month old iPhone returns home)
Remember, this was the same iPhone that was LOST at Tan Son Nhat Airport a couple weeks ago. I told her that she would have to still pay for the phone and she said she would give only 300,000 VND ($38 US). I told her that since she mentioned, in an email, that she lost the phone, she will have to pay for the full replacement. My iPhone was recovered shortly after from 'Lost and Found' at the airport (which is highly unlikely but makes a good story on her part).
Nearly two weeks later, I have the iPhone back.
I had a nice Hue dinner with my Vietnamese friend tonight. He lost the bet 🙂