Two of my past websites are both back online now.
AmerasianWorld.com / Salaam Central Asia
AmerasianWorld.com was originally named Salaam Central Asia.  I created Salaam Central Asia back in 2000 before I started graduate school.  Ummah.com had given me web space back then and Salaam Central Asia became one of the first websites devoted to Central Asia.  I included pictures of my experience working and volunteering in Kazakhstan and Kyrgyzstan.  I was getting pretty good traffic at the time for a new website.
Unfortunately for me, after 9/11, ummah.com's site was taken down so in April, 2002, I bought my first domain name, amerasianworld.com, and created a new website called AmerasianWorld.com.  By the name, I wanted to create the same website but demonstrate my experience as an Amerasian.  I added some Amerasian content as well as my trips to Turkey and later Japan.  Eventually, due to the number of requests in regards to Amerasians, I created a new website which became the Amerasian Foundation.
In 2004, I redesigned AmerasianWorld.com entirely in XHTML 1.1 and CSS.  When I moved to Vietnam, I wanted to add pictures of my experiences living here.  Instead, I decided to create a new blog which became SaigonNezumi.com and parked amerasianworld.com behind it.  Next year I will redesign AmerasianWorld.com using either WordPress or Drupal.  It is hard to believe AmerasianWorld.com would become 10 years old next year.
Website: http://www.amerasianworld.com (Site hosted in the US.)
Saigon Linux Group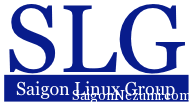 After being parked behind another domain for nearly 2 years, the Saigon Linux Group site is back up as well.  The SLG site was one of the three first English sites in Vietnam focusing on open source and Linux when it came online back in April, 2007.   I plan to expand this site next year to help promote open source usage in businesses throughout Vietnam.
Website: http://saigonlinux.com (Site hosted in Vietnam.)