Saigon finally got its first "real" lockdown
Before getting to my post, I want to address the current situation in Ho Chi Minh City. For the most part, the majority of the city is stable. The majority of people have obeyed the social distancing rules since early May. Vaccinations and testing are ongoing. The city is not disfunctional. We still have water and electricity. The internet is running. Everything is working.
The difference with today is that now the military is now in Saigon to enforce social distancing. I need to be blunt here, today was the first day Ho Chi Minh City has it first "REAL" lockdown. The earlier ones were not followed 100%. If they had, Saigon would have been back to normal as after a month like the previous two lockdowns.
Now I am curious to see what will happen to the number of new Covid-19 cases in the city. We have to accept that the numbers may not go down for another month or so. The delta variant has spread quite fast and currently only those of us in green areas are safe. For now. Knock on wood.
Two weeks. That is all the government asks.
---
Directive 11 Implemented
Saigon is now under Directive 11. Hanoi applied Directive 11 last year but the details of this measure seem a bit dated. The local media should, hopefully, provide details soon.
As you can see in the chart below, new cases are not going down. Deaths have increased as well. Hanoi has ordered citywide testing which will give a better number of positive cases. Rumors suggests that the actual number may be 2.5 times higher than the current tests are showing. This is why it appears that the curve is not flattening in Saigon. There are too many positive cases not being detected until too late. It was just reported that HCMC has another 4251 new Covid-19 cases today. Neighboring Binh Duong 3183 new cases.
I still believe that the Attempted Quarantine chart applies to HCMC. Getting more accurate number of new cases will help figure out where the city is on in regards to the chart below. The flattening of the curve "may start as high" as 8000 new cases and then drop fast. Regardless of what happens, the city will hit herd immunity by the end of next month. We will probably be in some form of lockdown through November.
More Sinopharm has been donated to Vietnam. Despite people's hesitancy to use Vero Cell, I still want my second jab to be with the same vaccine. Read more about my experience with the first Vero Cell vaccination here.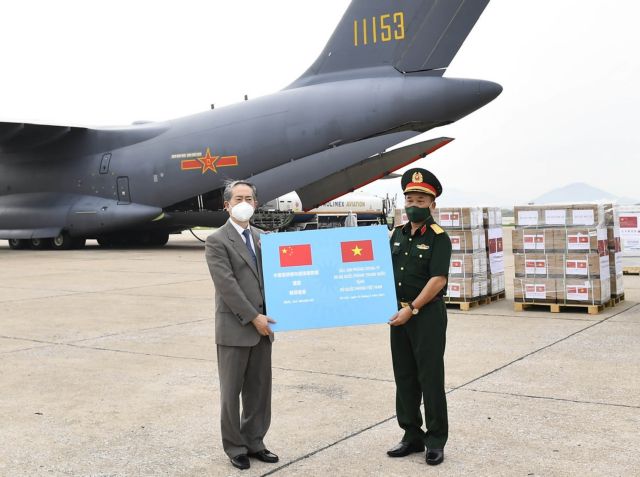 ---
New Chairperson for HCMC People's Commitee
Sadly, someone had to take the blame for what happened since May. No comment from me here.
---
Military troops enforce Ho Chi Minh City's first "real" lockdown
I have not personally seen the military in the city yet. I suspect I will not seen them since I am in a green zone. They are much needed to help stabilize the city. Containing the virus is one of their top priorities. They will help feed the local population. I have seen photos of the military handing out food even to Expats.
This is the lockdown Saigon should have had last May.
Umm, just want to mention, the below photo that made its way around social media IS NOT a tank. It is an APC or armoured personal carrier, aka troop carrier!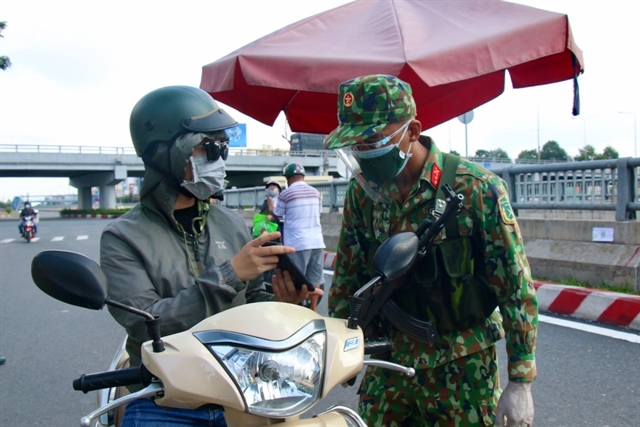 Bach Hoa Xanh closed
I was one of those that did make a visit to Bach Hoa Xanh but I learned, too late, that they were only doing deliveries. Below is the QR code they provided.
So I decided to head home and order from GrabMart the next day. Unfortunately later in the evening, the following news story was released:
I am fine. As of Sunday night, I had about 18 days worth of meals so I will be fine for the next two weeks.
---
Food Storage Prep
I am not a doomsday prepper but this has been one of the first times in Vietnam that I have stored food at home.
In short, the next two weeks food preparation will be easy for me since I still follow a intermittent fasting diet. I eat around 11:30 AM and stop my diet around 7 or 7:30 PM. Due to this, my meals have been very healthy.
My fridge holds about 2 weeks of food easily but in pre-covid days, I would keep one week's worth. I do miss my old big fridge in District 4 where I could easily keep two months worth of food. My only concern are the vegetables going bad. I have to keep an eye on them daily.
I have Revive, a rehydration drink, in my fridge which I like to drink after my workouts. Since it will be harder to buy, I will just drink about 50% of each bottle after my workouts. I still have enough tea for one month. Coffee is good for that time as well. I will abstain from sodas during these two weeks.
My landlord gave me some green vegetables and tomatoes that I used for my Japanese curry. I have the world's best landlords since they have always been real helpful.
The only casualty from the last week was my order from Lazada for three boxes of Golden Curry. I have just one more meal's worth but luckily my landlord gave me some curry powder. My go to meal is always Japanese curry rice.
Other than that, I am doing fine and in good spirits. Still productive. I will keep updating very couple of days on the situation in Saigon.

Take Care and Stay Safe.