Possible Alleyway Lockdown?
A short comment before I being this post. SaigonNezumi has always been my blog where I talk about my "opinionated" views of life here in Vietnam (or any other country I have lived in). I tell my friends that, sometimes, I regurgitate the news. I can do that. I am a blogger. Enough said.
First item,  there is a possibility that alleyway will be lockdown in a couple days. It seems that one person, who received both vaccinations, tested positive for Covid-19. In three days she will be tested by the government. If she is positive, the whole alleyway will be locked down for at least two weeks. I am pretty sure she never knew that she was not fully protected from the coronavirus.
Edit August 23, 2021: We have no had our lock in. Also, the whole city will get tested so the numbers are sure to rise in my area.
This is a problem with the local media. There is no, or very little, reporting about the effectivement of the vaccines. Is Sinopharm less effective than AstraZeneca? Is Pfizer or Moderna a better choice. What are the true efficacy rates of these vaccines versus the Delta variant. Can you still catch the coronavirus after getting double vaccinated? None of this is reported both excluding my blog post, of course.
Because of this, the city is thus forced to spend more time and money testing the entire city.
More testing
To this day, HCMC has not been able to trace the source of the Delta variant that started this current wave in HCMC. HCMC is implementing a workable testing scheme that should help isolate the Covid infections. Essentially the testing will be broken down in three phases:
The first phase will be carried out on August 15-22 to evaluate risk in areas with a high transmission rate.
The second phase will be conducted on August 23-31 to isolate strong transmission sources.
In the third phase on September 1-15, the city will conduct testing to control transmission in the community.
The antigen tests will be used in locked down areas. This will be a good way to see if people had been infected with Covid previously or not.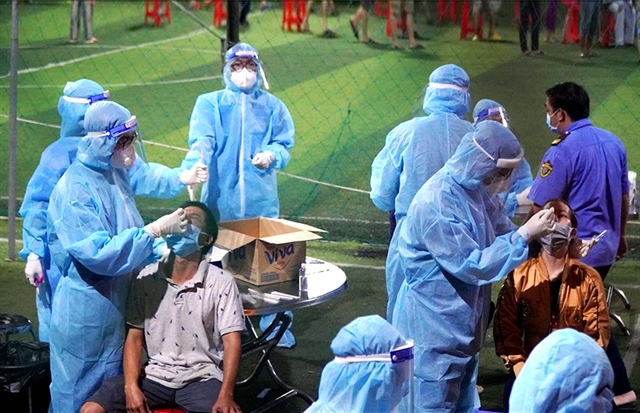 More traffic
No surprise here, the traffic is increasing on the street. I can hear it from my room. Deliveries are allowed cross districts again. This will definitely increase the amount of traffic on the streets. By this time a good number of delivery persons should have received at least one of the Covid jabs.
Hence, no surprise here. More traffic "may be" resulting in the spread of Covid outside of the locked down areas in the city. Lets just hope all delivery personnel are following strick social distancing now. GoMart has been a doing a great job when I meet them to pick up a delivery. If the numbers go up, do not be surprise to see the cross district movement to be restricted again.
Yesteday's new cases went up to 3559. Still not the big drop that everyone is looking for but still follows the Attempted Quarantine simulation chart I mentioned in a previous post.
Edit (Aug. 18, 2021 @ 6:50 PM): New cases went up to 3731 today. I will be blunt, the city needs a "FULL" 7 day lockdown.
Government Support and Charities
There is more government support to the stranded migrant workers and those heavily affected by the loss of jobs.
A large number of restaurants and charities have been supporting the needy by providing daily meals. This includes Baba's Kitchen which now provides about 800 meals per day in Saigon with the support of local government authorities. Many of the restaurants will continue to support the needy until the lockdown finally ends.
I will update on whether my alleyway will be locked down or not in a couple days. Until then, stay safe, wear a mask, always wash your hands.
Edit (August 18, 2021, @2:47 PM): Here is what happens if you violate the curfew rules in HCMC even if you are an Expat. In case you are wondering.