FYI: I use the Hemmingway App to edit my blog posts now. I try to keep the readability between Grade 6-7 since this is a blog. In case you are wondering why I write so simple now.
It is a bit chaotic now here in Ho Chi Minh City. The military has been enforcing the lockdown but the number of new cases keep increasing. There is debate on whether these are news cases or just the accurate number of daily cases. More about that later.
First up, it turns out our double vaccinated neighbor did test positive. Possibly due to this, the whole alleyway is expecting to be tested today, or tomorrow.  As I mentioned in an earlier post,  the entire city is currently being tested at the order of the Prime Minister. I hope we will get the quick Covid-19 test kits mentioned in the below article. I did hear that we can either self administer the test or have a health professional do it for us.
As of 7:20 PM, I have not heard word about the testing but I heard in other parts of the ward, they have done testing already. The last time they did mass testing the ward, there were never enough test kits for me.
---
Weather cooled down in Saigon
Probably one of the positives in the last couple days. The weather has cooled off quite a bit. Last night I did not have to turn on my air conditioner. I just leave my windows open and let my two fans run all night. In fact, one of my main fans has been running 24/7 for practically the last month. This is the most I have ever stayed inside a house, ever. One week, if I am lucky, I get 2-3 hours of sun outside. Now I can only get it when I go out on the balcony.
Still, it is currently 29.8 C (85.6 F) in my room. It will go down to about 28 C  (82.4 F) before I sleep. I normally get cold around 26 C (79 F) now. Cooler temperatures mean less air conditioner use which relates to cheaper electricy bills.
Below is the latest shot I took of the Pullman Hotel from my room. A very beautiful night.
---
New Covid-19 Cases, increasing or just more accurate numbers?
Before I wrote this post, the new numbers of positive Covid-19 cases for HCMC was released. 5294 news cases in HCMC and over 4100 cases in Binh Duong is a bit worrisome. Still, I am wondering if these are the accurate numbers and that the past numbers were lower than actual. My local friends and I always thought the real numbers should be 2 and half times higher.
I still think the magic number now is 3000 new cases per day. Once HCMC gets to that number, I think the curve will drop very rapidly. Lets see what the next day's numbers bring.
---
Delivery Confusions
Again confusion reigns on how to interpret the military lockdown directives. First we are told all deliveries are suspended for the whole city. Baemen said they will not operate until Sept. 6th. Then we see an article like the following that banned it in 6 districts. Weren't they already banned in these districts? Does that mean delivery is again allowed in the other districts? Wasn't the military were taking care of all food deliveries.
Welcome of the game of "Wheel of Interpreting the Directives." The better option was always stocking up your fridge if you can.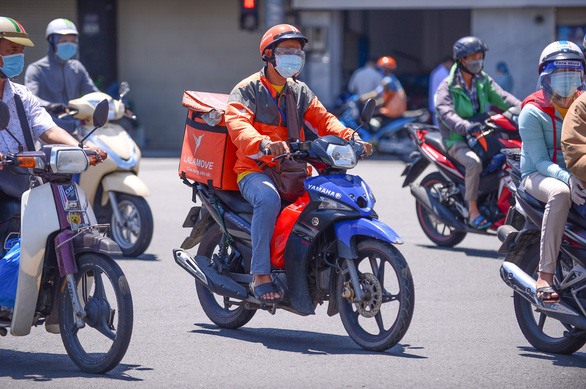 ---
Jumping the gate
Now for a more humorous story. Below are screenshots of an older women peddler trying to get past a lockdown gate. In the video she is seen trying to get past the policeman, in the first photo, who obviously would not let her pass. Some more policemen came a bit later. She gets angry. Eventually seh walks away and, as you will see in the second picture, she walks passed them in the field nearby. She then is seen running as she got inside the locked area. Hey, this is Vietnam. Expect the unexpected. Obviously the police went after her though you did not see it in the video. It was quite funny though and made its round around social media.
---
Interesting articles on Vaccinations
I think I will end this post by providing a couple links given by my friend today. It is must read if you really want to understand better if vaccinations are effective or not. Yes, double vaccinations seem to prevent death but what shocked me was that it did not prevent serious complications. Furthermore, the articles suggest that the vaccinated are also responsible for spreading the Delta variant. We should not be putting the blame on the unvaccinated.
Sorry, the first article is just a link. The card for the hyperlink was too long.
A Minimal Case for Vaccinations.
I will keep you updated on whether I get tested tomorrow or now.
Stay safe.